My Flesh Tearer Tactical Approach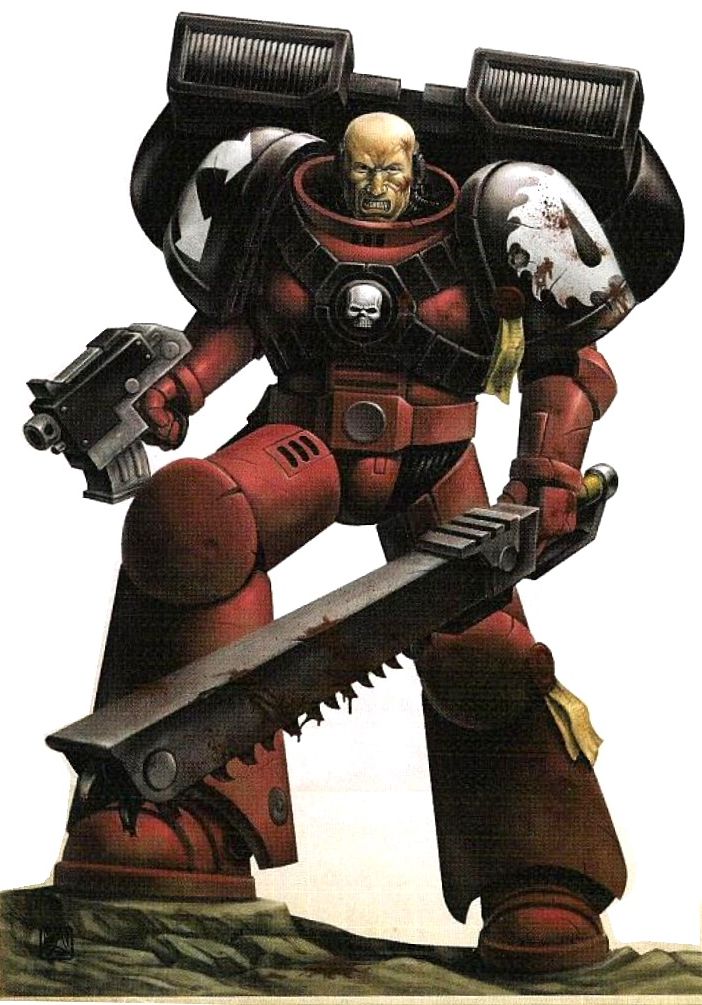 I have been progressing with my Flesh Tearers over some time now and have enough built and painted to create a big enough force to game with.
My force focuses on fast movement, assault and lots of bodies to pressure an opponent and isolate parts of their army to take it apart bit by bit. In my mind this is how the Flesh Tearers would fight although probably more recklessly with a lot more blood and violence!
The Flesh Tearer Force
So without going into too much detail, in a 1500 point force I have a librarian with jump pack, 3 assault squads with jump packs, 2 tactical squads in drop pods, 1 assault terminator squad (to be positioned with wings of Sanguinius hopefully!) and a death company squad with jump packs. All units can be positioned where I need them fast! All units have furious charge for +1 strength and I take the Baal strike force detachment for +1 initiative on the charge.
My only headache has been to know how to equip my 8 man death company squad. These are the big hitters, the squad that will take any others out once they get the charge.
The Original Death Company Idea
My original thought was to keep costs down and take them with just chainswords and pistols and rely on volume of attacks to get them through. After trying this a couple of times it seemed that non-meq units got stomped but any marine equivalent caused me problems and the Death company would get stuck in combat. It seemed I needed something more...
Phase 2
To help with combat against marines I stepped it up by adding 2 power swords to the squad. This still kept them fairly cheap but gave them 10 ap3 attacks on the charge at I5 and S5 as well as 30 normal attacks at I5 & S5! In math hammer terms the marine kill rate has gone from 4.4 kills to 6.1 kills on the charge. I tried this layout and it definitely worked better, especially working in conjunction with an assault squad.
Unfortunately then I ran into a problem. A big contemptor shaped problem. I just couldn't deal with walkers as I couldn't hurt them and what began to happen was I would stroll through some marines and then a dreadnaught of some kind would charge me next turn making my elite assault unit a one hit wonder...
Phase 3
To combat this but still keep the hitting power I needed to sacrifice speed and points.
I decided to add a powerfist and a power sword. These additions pumped up the expense of the unit but gave me 2 things - an ability to hurt terminators and also some tools to punk dreads.
On the charge I now have 10 ap3 attacks and 20 ap- attacks hitting at I5 and S5. This is enough to remove enough infantry that I don't get hurt badly when the initiative step 4 comes around. Then I am piling in at I1 with 4 S9 & 4 S7 attacks at ap2. This is more than enough to clear out any other infantry and hurt terminators or a dreadnaught if I need to.
Conclusion
I started off with the idea of having a fairly cheap elite squad to pick off my opponents units. Along the way my idea's changed a little as I realised that this squad was quite important to me and needed to be a little harder hitting. Consequently I now have an 8 man squad worth 254 points! I am happy with the layout at the moment but I do need to play test them more.
If you are wondering why I didn't up the number of death company from 8 I found that with jump packs I struggled to manoeuvre any more that that around the battlefield effectively.
To The Future
Has my death company finished its evolution? Probably not. As I play more it may change but at the moment my only consideration is whether or not to include a Sanguinary Priest.
A possible addition?
This would bump the squad points up considerably and use a valuable HQ slot which is annoying. Also a priest would waste(?) his feel no pain on a squad that already has it albeit increasing it from a 5+ to a 4+.
On the positive side the squad gets seriously killy with a priests attacks involved and most importantly increasing the squad's WS to 5. This would give an extra 6.3 attacks when hitting on the charge which is huge - especially against terminators.
Personally I think I will try it as I'm not sure I can resist a squad that hits in lose combat with WS5, I5, S5 with a 4+ feel no pain! That is surely the essence of the Flesh Tearers right there....
I would love to know what other people do for their death company. Please get in touch either by commenting or on twitter at @4dadsapocalypse.
James